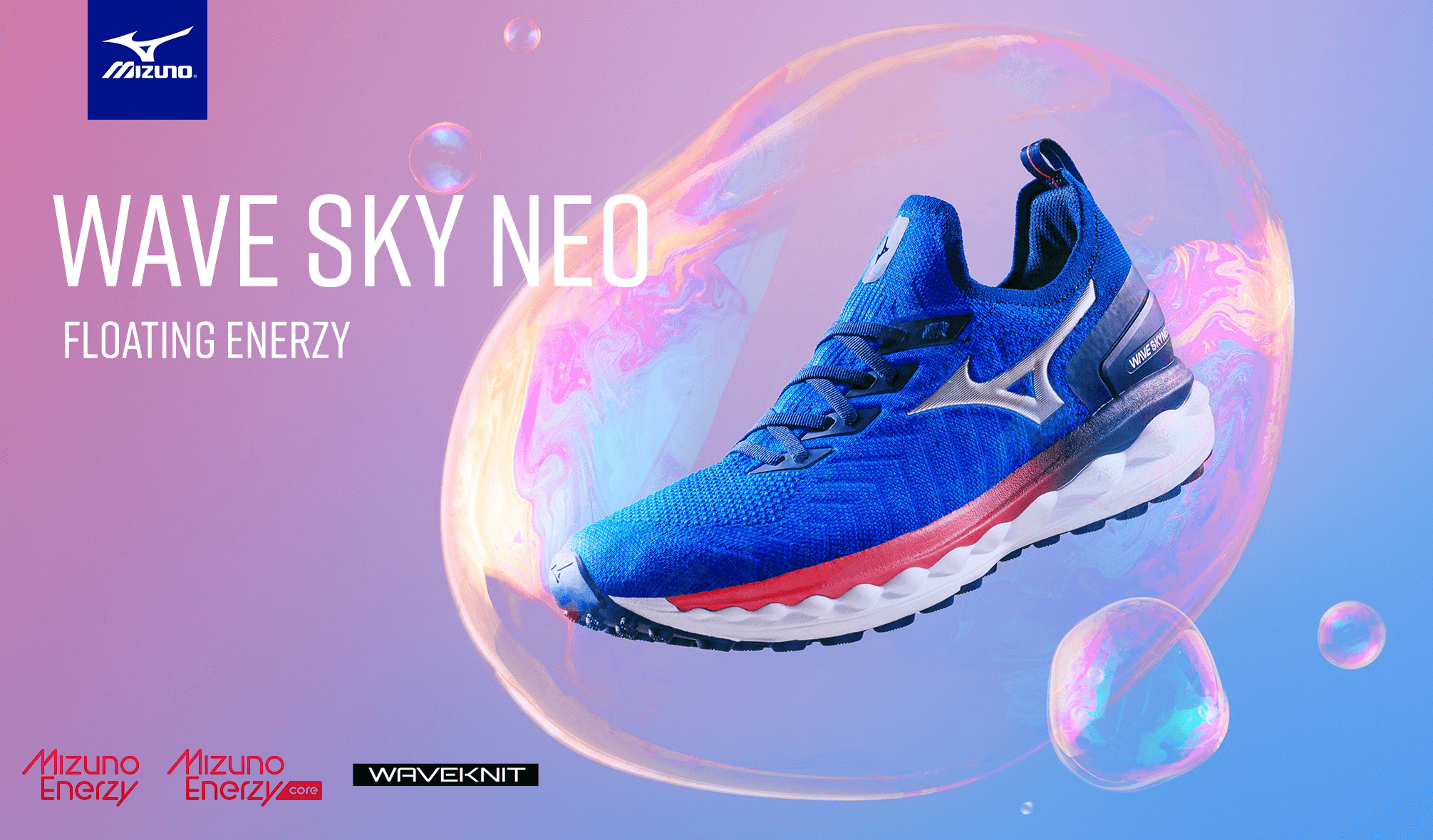 Poznaj najnowocześniejszą technologię biegową. Wave Sky Neo zapewnia największe korzyści z najnowszej innowacji Mizuno: Mizuno Enerzy.
Doświadcz sprężystego, niezwykle amortyzowanego i wygodnego biegu, który zapewni uczucie świeżości podczas najdłuższych biegów.
Wypełniony rdzeniem MIZUNO ENERZY, Wave Sky Neo jest stworzony, aby przekraczać ograniczenia amortyzacji i komfortu.
Zaprojektowany dla biegaczy, którzy chcą doświadczyć niesamowitego, pływającego biegu, Wave Sky Neo to jedyny model wyposażony w technologię rdzeniową MIZUNO ENERZY i jest o 293% bardziej miękki i 56% bardziej sprężysty niż jego poprzednicy.
Poczuj komfort jak nigdy dotąd! Łącząc dwie warstwy rdzenia MIZUNO ENERZY z pełnowymiarową warstwą MIZUNO ENERZY Foam i Mizuno Foam Wave, Wave Sky Neo jest zdecydowanie arcydziełem z nieba.
Jego pełna dzianinowa cholewka i język z dzianiny typu bootie zostały stworzone, aby zapewnić wygodne dopasowanie, które utrzymuje stopę na miejscu, gdy cieszysz się biegiem.
Mizuno Enerzy zapewnia dobrą amortyzację i wysoki zwrot energii
Foam Wave zapewnia stabilność i amortyzację
Cholewka WAVEKNIT gwarantuje znakomite dopasowanie niczym skarpetka - jest elastyczna i jednocześnie odpowiednio podtrzymująca oraz zapewnia wysoki poziom oddychalności
Technologie:
Mizuno Wave - unikalna technologia opracowana i opatentowana przez Mizuno. Łączy w sobie dwie niezbędne podczas biegania funkcje: amortyzację i stabilizację. Specjalnie zaprojektowana, lekka i kompaktowa płytka Wave rozprasza siły uderzenia po większej powierzchni zapewniając znakomitą amortyzację. Technologia Wave rozwiązuje również kwestię stabilizacji stopy poprzez zróżnicowanie konstrukcji zewnętrznej oraz wewnętrznej części buta, dzięki czemu zapobiega kompresji środkowej części podeszwy w miejscach o największym nacisku. Zastosowanie płytki Mizuno Wave gwarantuje ekspresową reakcję i zwiększa wydajność butów.
Mizuno Enerzy - materiał podeszwy środkowej, który zapewnia doskonałą miękkość i odbicie, a także jest bardzo wytrzymały.
WAVEKNIT -

dzianinowa cholewka o falowej konstrukcji, która jest bardzo wygodna do noszenia i zapewnia naturalne i dynamiczne dopasowanie dzięki zdolności rozciągania i znakomitego trzymania stopy
szanka gumy węglowej, która jest mniej podatna na ścieranie w obszarach najbardziej na to narażonych, wspiera dodatkowo pracę pięty.
SmoothRide - Inżynieryjne podejście mające na celu zminimalizowanie negatywnych sił działających na stopę podczas kolejnych zmian tempa biegu. Zapewnia, że bieganie staje się bardziej płynne.
U4ICX – Bardzo lekki materiał będący rozwinięciem U4IC. Oferuje zwiększoną trwałość i amortyzację. Biegaczy zaskakuje też większa dynamika odbicia.
Parameters
Reflex Blue / Silver / Diva Pink
Size chart
| Size | długość wkładki | UK |
| --- | --- | --- |
| 44.5 | 29 cm | 10 |